Moss hoping he's hit his way out of a slump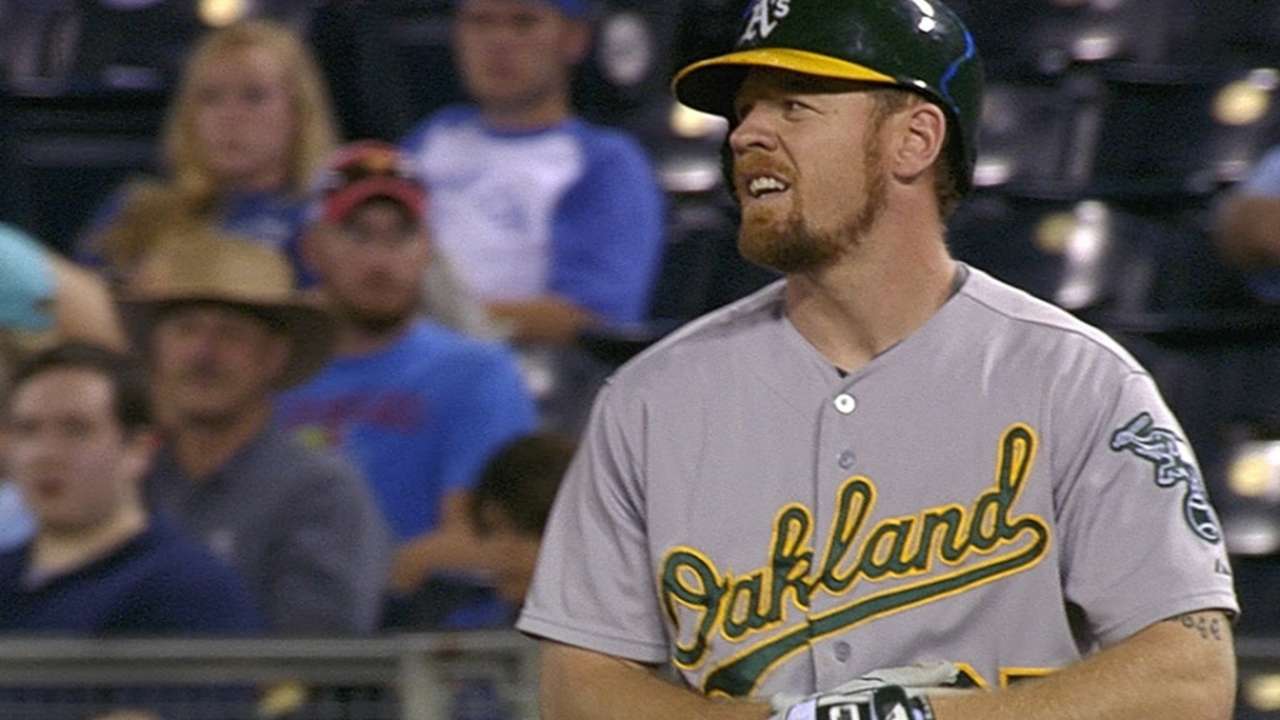 KANSAS CITY -- Before breaking out for a career high-tying four hits in Tuesday's 11-3 win over the Royals, Brandon Moss admitted he's been pitched differently since around the same time Yoenis Cespedes left for Boston -- but for reasons that have nothing to do with Cespedes, who routinely hit in front of him.
"If anything, it's because of me," Moss said before the game. "I feel like I've been pitched a little differently for a while, but that isn't because of who is in front or behind me. That's because, when I'm starting to struggle, my thinking has been, you can't walk your way out of a slump. You have to figure it out and you have to hit, so when I get into a slump, I'm the type that gets more aggressive. All it does is open more holes, and then I can't even hit to my strengths.
"It could've been Cespy, Mark McGwire, Jose Canseco hitting in front of me, behind me, it didn't matter."
Moss is already one of the A's most aggressive hitters, even when not in a slump. Strikeouts, and lots of them, will always be part of his game, but he wasn't just striking out on pitches out of the zone, like he often does. He was swinging through pitches in the zone, mostly underneath them.
"I'm talking a good two inches under it, not even fouling it off, and it seemed like no matter what I did, I couldn't correct it," Moss said. "I think part of it had to do with some of the pitches I had been getting, a lot of breaking balls, offspeed. Then when I would get a fastball, I was a little late on it."
Monday was different. Kansas City's Yordano Ventura threw him nothing but heaters in his second at-bat in the third, coming in no lower than 96 mph. Moss lined the fifth pitch he saw into center field for a two-run base hit, after recording just one RBI over his previous 14 games. He also had just four hits in his previous 45 at-bats.
Moss then drew a seven-pitch walk in the sixth and a five-pitch walk in the ninth, giving him seven in nine games this month. He walked a total of six times in 22 July games. This is no accident.
"When a guy's throwing 100, you don't really have the opportunity to think about offspeed, you just have to be ready to hit," Moss said. "I think I really needed that last night. It's easy when you're getting pitched a certain way to kind of start looking for those pitches that you're struggling with and get away from your strengths, and that's really what gave me problems.
"Then, in the ninth, against a good closer, the feeling is he's going to go after you, and he didn't. He got strike one, and then everything else was around the zone to get me to chase, and I didn't, like I usually would, and I end up walking on five pitches. They're saying, make him get himself out, and that's tough for me, because I really like to hit. I don't like to take a lot of pitches, but when you're struggling to do much else, you have to take a step back and realize there are other ways to get on base."
"I think it's as much of a mental thing for him to get a big hit off that type of pitcher and then draw a walk in the ninth," manager Bob Melvin said. "Those are the type of things that get you going, so hopefully that's the case."
Jane Lee is a reporter for MLB.com. This story was not subject to the approval of Major League Baseball or its clubs.