Lowrie dealing with fractured right index finger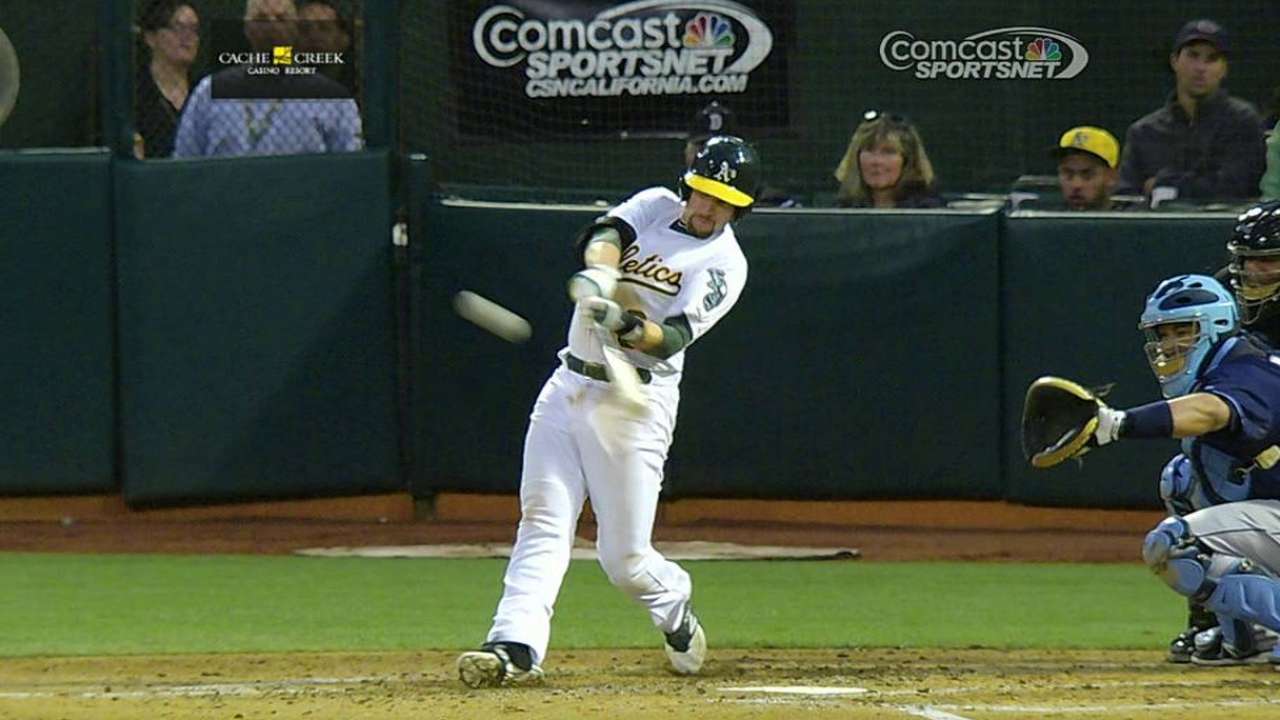 KANSAS CITY -- An MRI on Tuesday revealed a hairline fracture at the tip of Jed Lowrie's right index finger, but the A's shortstop plans to play through the injury, as dictated by the level of pain on a day-to-day basis.
"It might mean a day off a little more frequently, but he's able to play with it," manager Bob Melvin said. "There's nothing to suggest, unless he gets hit again, that it would worsen, but if there's a day something happens or it's bothering him more than others, then we'll have to give him a day off."
On those days, Eric Sogard will start at shortstop, as he did on Tuesday against the Royals next to second baseman Alberto Callaspo. The A's are already down to three infielders with Nick Punto (right hamstring strain) sidelined on the disabled list, so if Lowrie ultimately needs more time off than expected, the A's could add an infielder from Triple-A Sacramento. Until then, there are no plans to alter the roster.
Lowrie initially took a grounder to the finger on Aug. 4 and missed each of the club's next three games before returning to the lineup. But he was upfront in admitting he still experienced pain while throwing in the days thereafter, and that continues to be what gives him the most discomfort.
But it's not believed to hinder Lowrie's performance.
"This is something he can play with, and something he will play with," Melvin said. "He knows where his team is and he wants to be a part of it and he wants to play. You give him a lot of credit for that. He wants to win, obviously, and he wants to be there for his team."
Because he's short on infielders, Melvin doesn't foresee using Lowrie in the designated hitter spot, even though hitting isn't as much of an issue. Rather, Melvin is more apt to give Lowrie a full day off if he feels he needs the rest.
Lowrie, a free agent at season's end, entered Tuesday batting just .238 on the year, but he hit .308 with 10 multi-hit games in his last 28 contests.
Jane Lee is a reporter for MLB.com. This story was not subject to the approval of Major League Baseball or its clubs.