Lowrie to go on DL to rest fractured finger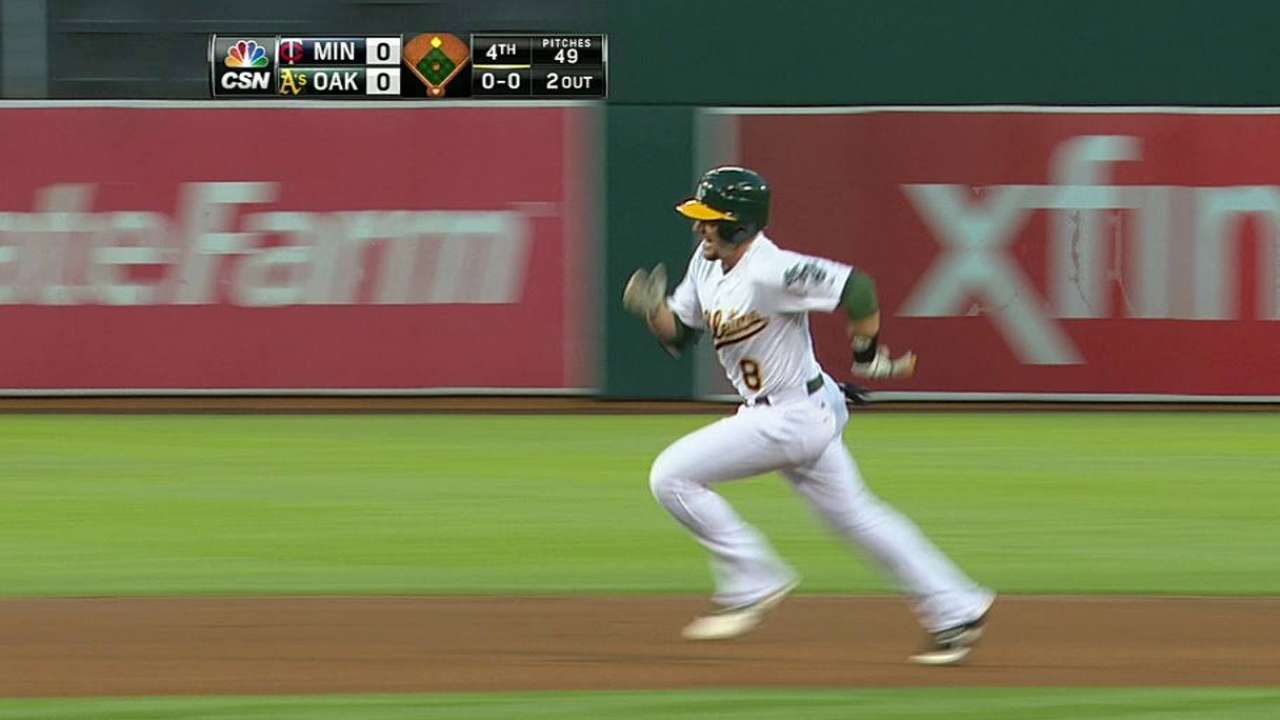 KANSAS CITY -- The A's will push through the rest of August without shortstop Jed Lowrie, who is headed to the disabled list with a hairline fracture in his right index finger.
Lowrie has been playing through the injury for 10 days, but it was adversely affecting his performance to the point where he realized he couldn't keep doing it through the rest of the season. Just Wednesday, he lobbed a throw over to first base on an Omar Infante grounder that resulted in an infield hit.
"He's a fast runner, but I think that's a play that I make 10 times out of 10," Lowrie said Thursday morning. "There was no way that I could continue to put the same velocity on throws because the finger just wouldn't allow it.
"I think the realization last night was it's not going to get any better unless I take time off."
Manager Bob Melvin agrees, but that still leaves him with a thin middle infield that's already missing Nick Punto, who is expected to be out at least another week or two with a right hamstring strain.
The A's are expected to call on Andy Parrino from Triple-A Sacramento when Lowrie officially hits the DL, a move that will be made official Friday. Parrino was already on his way to join the team in Atlanta on Thursday and can not only supplement Eric Sogard at shortstop but also play the outfield. Alberto Callaspo will continue to see the most time at second base.
Melvin hopes to have Lowrie back on board in September. That's at least a month -- likely longer, given the first-place A's postseason chances -- of a healthy, proven shortstop versus six weeks of one that could prove to be a liability.
Lowrie was mostly hampered by the fracture when throwing but also at the plate, too, since he was trying to avoid placing the finger on the bat at all. He was 2-for-15 in five games he played with the injury.
"We could get away with it for a week, but if I'm going through the rest of the season like this and into the playoffs with a broken finger, it's going to catch up with us as a team," said Lowrie. "Especially what we're doing this year, that's why I chose to try to play with it, because of where we are and what this team has done so far and what we're capable of doing. But, in the same breath, I think it's the right choice and once that focuses on the ultimate goal. So while, yes, it's not what I wanted to do, I think it's ultimately the best thing."
Lowrie, a free agent after this season, is batting .238 with five homers and 28 doubles in 407 at-bats, after finishing with a .290 clip in 2013 - the first big league season in which he avoided the DL.
Jane Lee is a reporter for MLB.com. This story was not subject to the approval of Major League Baseball or its clubs.