O'Flaherty thrilled to see old Braves teammates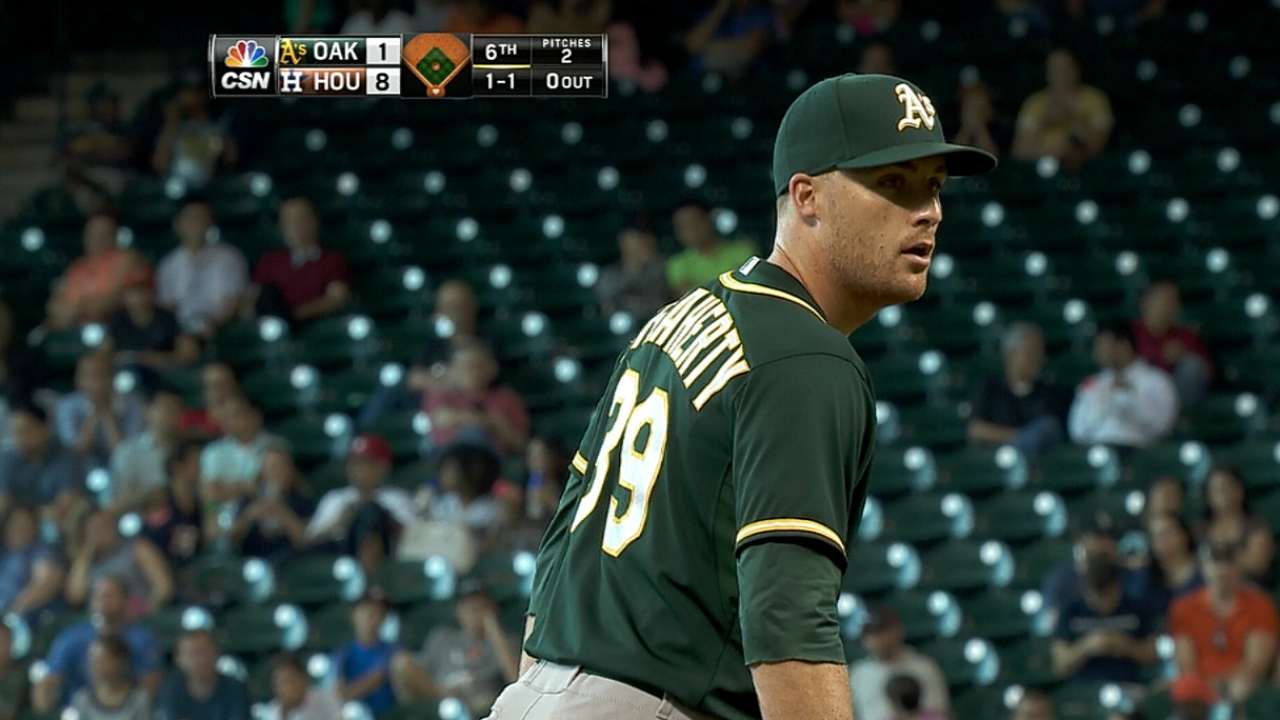 ATLANTA -- Craig Kimbrel, Eric O'Flaherty and Jonny Venters gave the Braves one of the most feared bullpen trios in baseball from 2011-12. "O'Ventbrel" compiled a 1.64 ERA in 413 combined appearances in two full seasons as teammates.
"We were pretty tough back then," O'Flaherty said.
Their success warranted a Sports Illustrated profile in September 2011 titled "Good and Nasty," which the three of them signed for each other as they visited before Friday night's series opener between the Braves and the A's at Turner Field.
"It was cool, brought back some memories seeing those photos," Venters said. "It was cool to have us all three together again. It was fun. It was definitely something that I'll always remember and cherish. To be a part of something like that was special."
O'Flaherty was one of the best relievers in the National League during his five years in Atlanta, recording a 1.99 ERA in 249 1/3 innings. However, he appreciates the friendships like the ones he has with Venters and Kimbrel most from that time.
"They're just a fun, good group of guys that I grew with," O'Flaherty said. "I was 24 when I went over to the Braves and now I'm 29, so it's a big chunk of your life at this point. I just made a lot of good friends."
While Kimbrel has had continued success since that time, O'Flaherty and Venters were hit hard by Tommy John surgery in 2013. O'Flaherty only returned to a Major League mound on July 4 while Venters continues trying to work his way back.
Throughout each pitcher's recovery, the southpaws have kept in touch. O'Flaherty is hopeful that Venters, who has suffered multiple setbacks due to pain and inflammation during his rehab process, can get through his current bullpen sessions without issue.
"I've been texting him and calling him and seeing how he's doing. This surgery is no easy ride. Every case is different," O'Flaherty said. "I know he's pushing as hard as he can, and it's just a tough surgery. There's good days and bad days. It's really just a mental grind to get through it. He's a tough guy. I'm sure he's going to be fine, and I'm wishing him the best and try to be encouraging whenever I talk to him, so I'm glad he's doing better. He's throwing bullpens now."
"We talk quite a bit," Venters added. "We text back and forth checking on each other and seeing where we're at and how we're progressing. It's been good to have somebody to kind of talk to and relate to that had it five days after me."
O'Flaherty has flourished since his return a little more than a month ago, posting a 1.64 ERA in 11 appearances, striking out nine and walking only two. The lefty, who was a part of three postseason runs as a Brave, is happy to contribute yet again to a winning club.
"I've been lucky. I keep landing on good teams. We've just got a good vibe in the clubhouse, a good carefree group," O'Flaherty said. "Kind of similar to what we had in Atlanta, just a laid back group of guys that just cares about winning, so that's a good thing. I just landed in another spot that fits my personality really well."
Joe Morgan is an associate reporter for MLB.com. This story was not subject to the approval of Major League Baseball or its clubs.