Gentry returns from DL; Otero squeezed out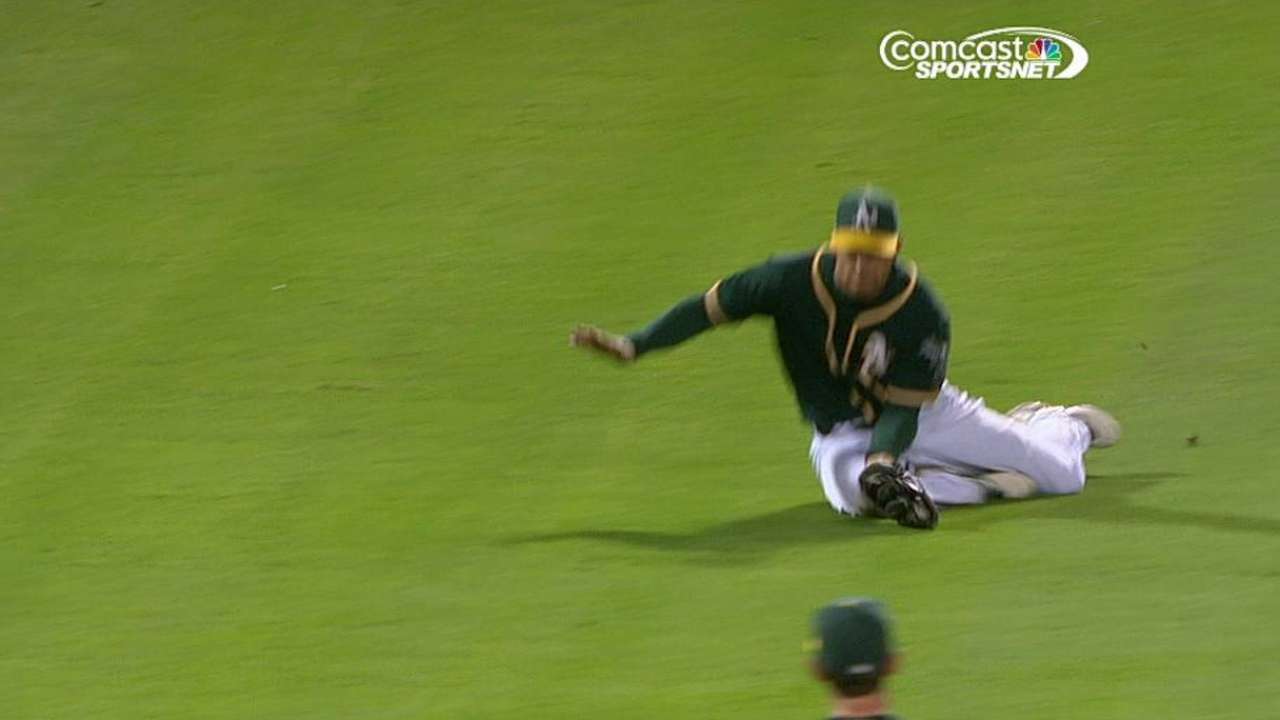 OAKLAND -- The A's were so desperate to get one of their better right-handed bats back in their sluggish lineup that they temporarily parted with one of their better right-handed bullpen arms to do so.
In activating outfielder Craig Gentry in time for a crucial three-game set with the visiting Angels, who are starting back-to-back lefties this weekend, the A's optioned Dan Otero to Triple-A Sacramento.
"We don't have too many guys here with options, and Otero's one of the most valuable guys we have here in the bullpen," said manager Bob Melvin. "It certainly is nothing that he's done to deserve going down, but with these two lefties coming up, we're trying to get Gentry back, so it was a hard one, but that's the decision that was made."
It was the product of another decision made this week to skip Jason Hammel in the rotation. Hammel, who does not have Minor League options remaining, will fill the void in the bullpen left by Otero, who was 7-1 with a 2.28 ERA in 71 innings spanning 56 relief appearances this year.
No other arm has proved as versatile as his.
"That's the balancing part of this," said Melvin. "What's there a bigger need for? We do have some starters that would suggest they can go deep into games. If we get deeper into games, we feel like we have three, four guys who can finish it out for us."
That didn't make his conversation with Otero any easier.
"He probably thought I was kidding at first," he said.
Gentry returned to the lineup Friday, batting second in his first start since July 27, when he suffered a broken right hand. He's batting .264 on the season, including .273 against left-handers -- and .407 against the Angels.
The A's hope this to be an invigorating series of sorts, following an ugly 2-8 stretch in which they hit .228 as a team, and they're not only getting a significant bat back in Gentry but game-changing speed.
"It definitely gets a pitcher's attention," said Melvin. "We've been lacking in our running a little bit recently. He's never afraid to run, creates a little bit more of a dynamic than we've had here since he's been out."
Jane Lee is a reporter for MLB.com. Aaron Leibowitz is an associate reporter for MLB.com. This story was not subject to the approval of Major League Baseball or its clubs.