Doolittle hits DL with right intercostal strain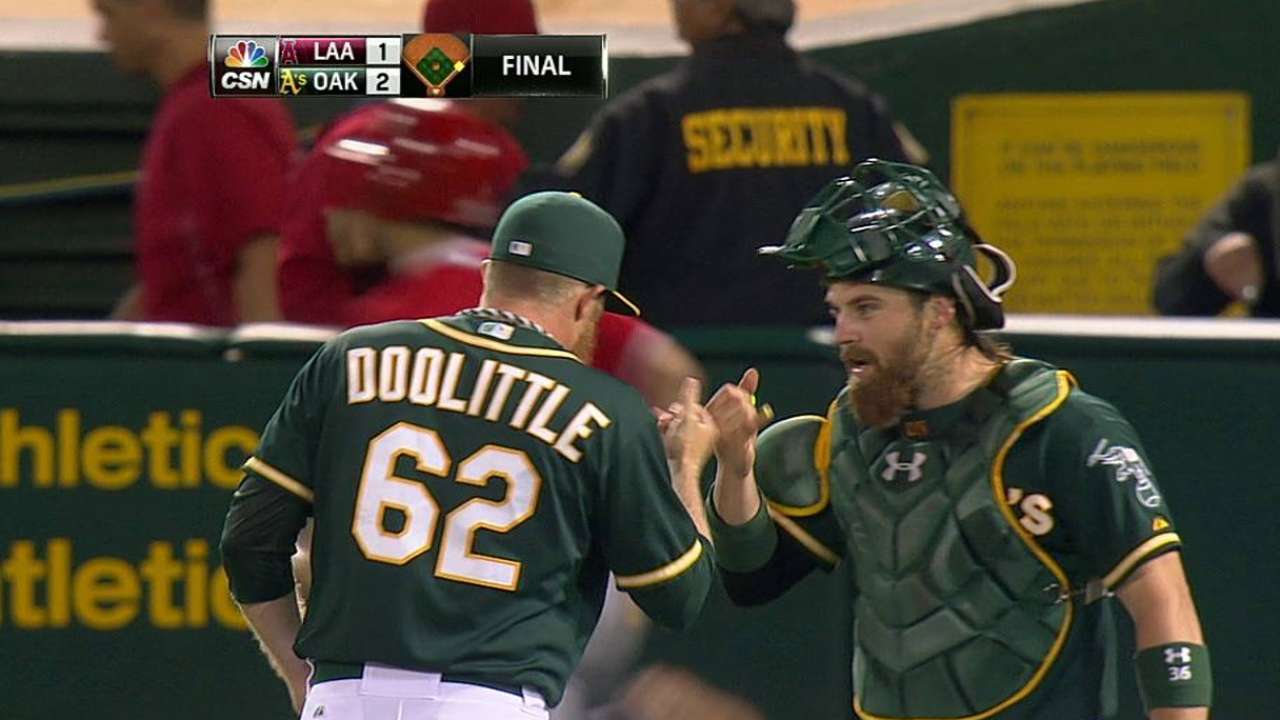 OAKLAND -- The A's are suddenly drowning in injuries, chief among them a right intercostal strain to closer Sean Doolittle, who had to be placed on the 15-day disabled list in advance of Sunday's series finale against the Angels.
Right-hander Dan Otero was recalled from Triple-A Sacramento in time for the game, a 9-4 loss that didn't require manager Bob Melvin to pick an interim closer. He's expected to speak to his bullpen come Monday before he announces who that will be while Doolittle is shelved. Right-handers Luke Gregerson and Ryan Cook are likely the top options.
"There are a number of guys who have experience pitching in late-game situations," said Doolittle. "You look at the versatility, the way we can match up, and the experience, I think they are more than capable of figuring out a way to get the job done."
Doolittle's injury can require as few as two or three weeks of recovery time and up to several months, depending on the severity, but even he isn't aware of a timetable at the moment.
"Right now, they haven't been real specific, which is good. I've dealt with a lot of injuries in the past, and timetables can be frustrating," he said. "Even if you're setting benchmark goals for yourself along the way, as soon as you miss one, even if it's by a day, that can be really frustrating mentally. So we're going to take it day to day. It's something you kind of treat based on how you feel, so it'll probably be something we have a better handle on when we start moving around and doing some stuff later in the week."
The All-Star closer has a 2.28 ERA and a 80:5 strikeout-to-walk ratio in 54 appearances this season. He'll remain in Oakland while the team travels to Houston and Anaheim this week and said he may receive a cortisone shot to help along the rehab.
"I mean, I'm [upset], mainly because I can't be out there helping the team," said Doolittle. "But, on the other hand, coming down the home stretch, there's really no time to be [upset] or disappointed. We have to figure out a game plan of how we're going to treat this thing and how we're going to overcome this and get back on the field. That's where I've been focusing all of my energy at this point, talking with the trainers, and if there's a chance that any little thing can help, we're going to do it."
Jane Lee is a reporter for MLB.com. This story was not subject to the approval of Major League Baseball or its clubs.