Crisp exits after crash into wall on stellar effort
Center fielder nearly brings back HR; considered day to day with neck strain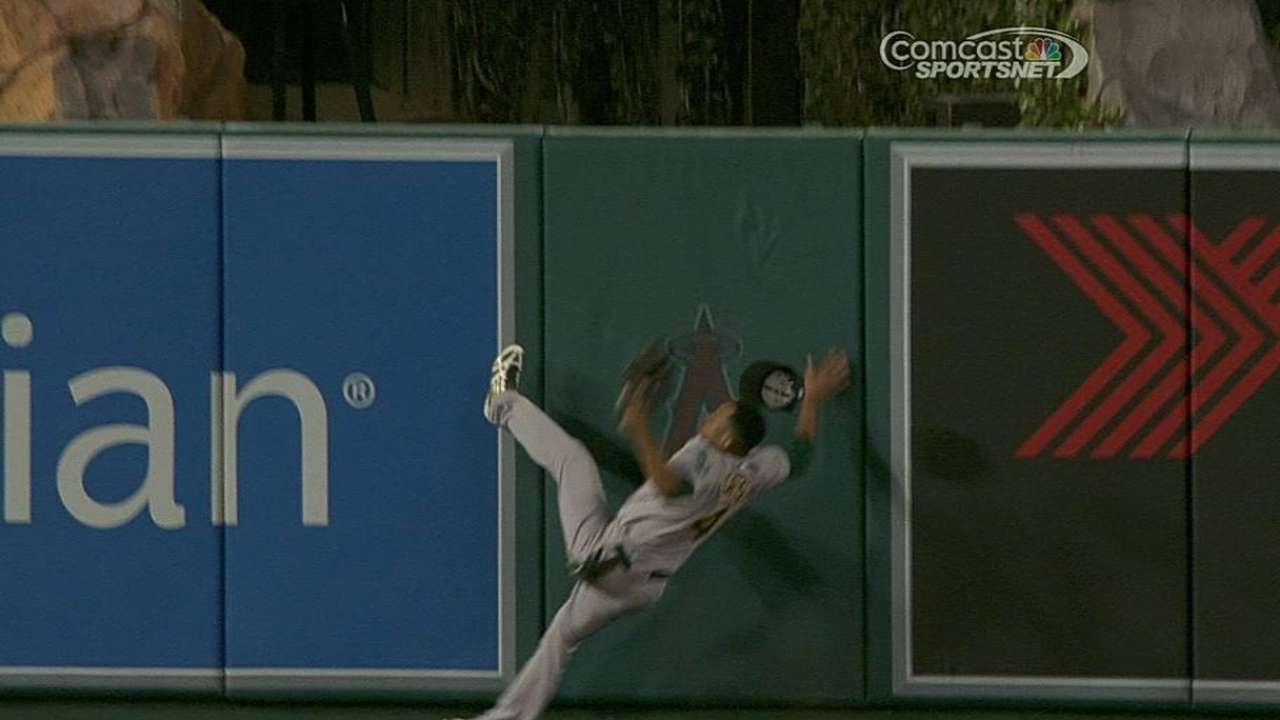 ANAHEIM -- A's center fielder Coco Crisp exited Friday's game in Anaheim in the fifth inning with a strained neck after a tremendous effort to snag Chris Iannetta's two-run homer.
Crisp, who has been bothered by the same injury on numerous occasions this season, is considered day to day.
"He doesn't feel as bad as the last time right now," said manager Bob Melvin after the Angels' 4-0 victory. "We'll see how he is tomorrow."
The A's are already drowning in injuries, with Sean Doolittle, John Jaso, Nick Punto and Jed Lowrie all stationed on the disabled list. Crisp has avoided the DL to this point, despite the recurring neck discomfort, but any time missed at this stage of the season is significant. The A's will enter Saturday's game in a three-game hole in the division.
"Hopefully it's not too long," said Jon Lester, who gave up the home run. "He hit the wall hard and he hit the ground hard. We all know that he's struggled in the past with some neck stuff, so hopefully he didn't aggravate that too bad and, best-case scenario, it's only a couple days or a day, I don't know. But we can't afford to lose a guy like that for too long."
Crisp remained on the ground for several minutes while a team trainer attended to him, with Melvin and several of his teammates huddled around. Crisp ultimately walked off the field under his own power, and Craig Gentry replaced him in center field.
Angels fans awarded him a standing ovation upon his exit after the video board displayed a replay of his impressive attempt. Crisp did have the ball in his glove before the impact of the wall forced it loose.
"I knew I could catch it, and I caught it," said Crisp. "Just as soon as I hit the wall, after I caught it I guess, the momentum of it all, the ball just kind of slung out of there. I thought it might have come out, but I didn't really know, so when I pointed to my glove for [left fielder Sam] Fuld to look if it was in there, that's when I obviously knew it went over the wall."
"It would've been probably the greatest catch I've ever seen," said Lester.
Crisp admitted he's tried to dial it back some in recent weeks, avoiding certain diving plays to not worsen the neck issue.
"But when I play it safe, I don't really feel like myself, because usually I just throw my body out there, whatever happens happens, and I just kind of deal with the consequences," he said. "Today, one of those things where I'm running back and I know I can make the play and I know it's going to be some consequences that come along with it. Just take those chances, like most guys do. Got the bad end of the wall, but I felt like I could've made the play."
"Unbelievable, came out of nowhere to get to it," said Melvin. "Airborne. Actually in his glove for a while, he just couldn't pull it back. We've seen him hit the wall hard several times before but no more so than that."
Jane Lee is a reporter for MLB.com. This story was not subject to the approval of Major League Baseball or its clubs.