Kazmir voices frustration with ump's strike zone
Players said Davis was reprimanded for making faces at dugout the day before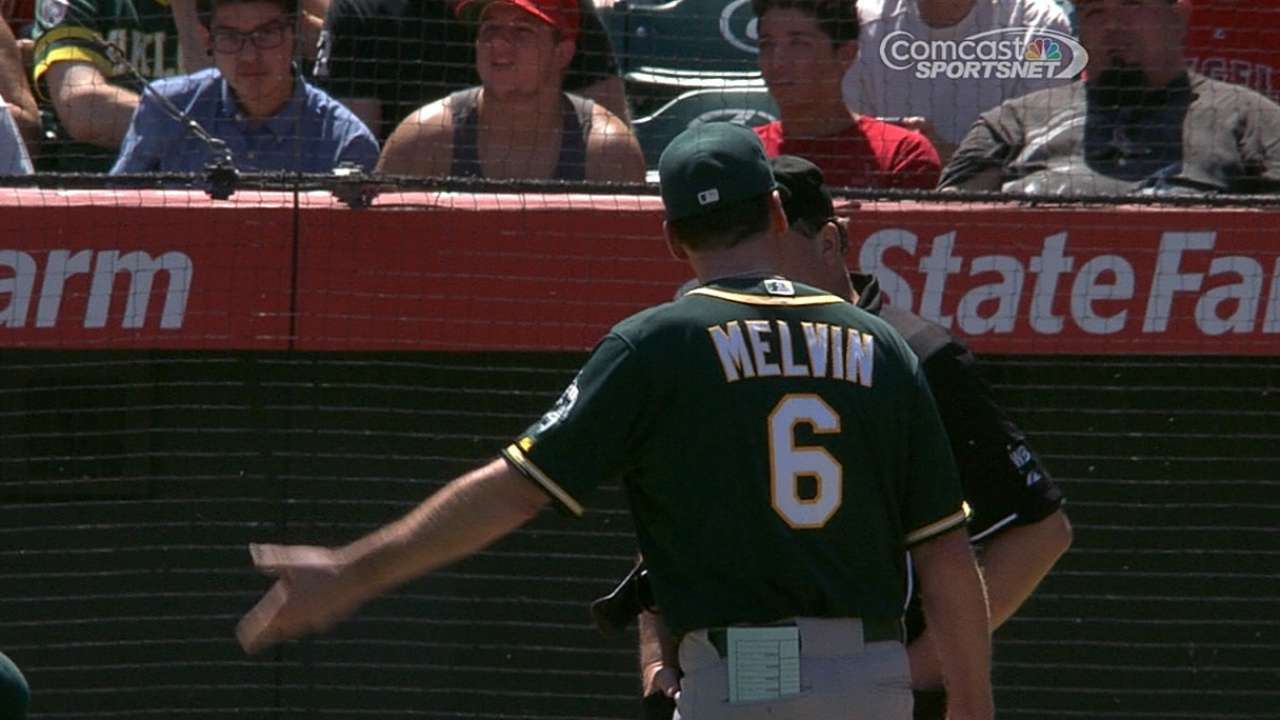 ANAHEIM -- The A's Scott Kazmir called out crew chief Gerry Davis following Sunday's 8-1 loss to the Angels, believing he was intentionally squeezed on several calls in a six-run second inning in which the left-hander walked four.
MLB did not issue an official statement, but A's players told reporters that Davis was reprimanded by MLB for making faces at Oakland's dugout the night before. Kazmir, who allowed six runs in just 1 1/3 innings, specifically questioned Davis' professionalism and wondered out loud whether the reprimand impacted his calling of Sunday's game.
"It's late August, a tough time of year for anyone in the game, it really is," said Kazmir. "But it's important to rise above any personal issue and call a fair game. We owe it to the game to do that, we really do. And what I saw in the video were 10-plus pitches that I felt were right there. I don't know if it had something to do with last night, since he got reprimanded, but just professionalism is something I have an issue with. No matter what happens on the field, some things are just unacceptable."
Manager Bob Melvin voiced his displeasure with Davis in the middle of the inning and was subsequently ejected, and catcher Derek Norris expressed sentiments similiar to Kazmir's after the game.
"It seemed like he made consecutive pitches over and over again that weren't getting called," said Norris. "There were countless times I felt like I really didn't move at all, and anyone who watches me catch knows I'm not really a corner splitter. I don't split the plate. I try and set up on the outer third, and it allows them a little bit more room to miss. I like to force early contact for that reason alone. And he wasn't budging.
"That's really all I got. That's really all I can say right now."
"It's one thing if you're erratic all over the place and you expect to get a pitch like that," said Kazmir. "But when you constantly pitch inside and hit your spots and have nothing to show for it ... it's really, really frustrating."
Jane Lee is a reporter for MLB.com. This story was not subject to the approval of Major League Baseball or its clubs.