MLB.com Columnist
Phil Rogers
Beane smart to recognize Dunn's potential to help
Veteran, who's never played in postseason, primed to make a difference with A's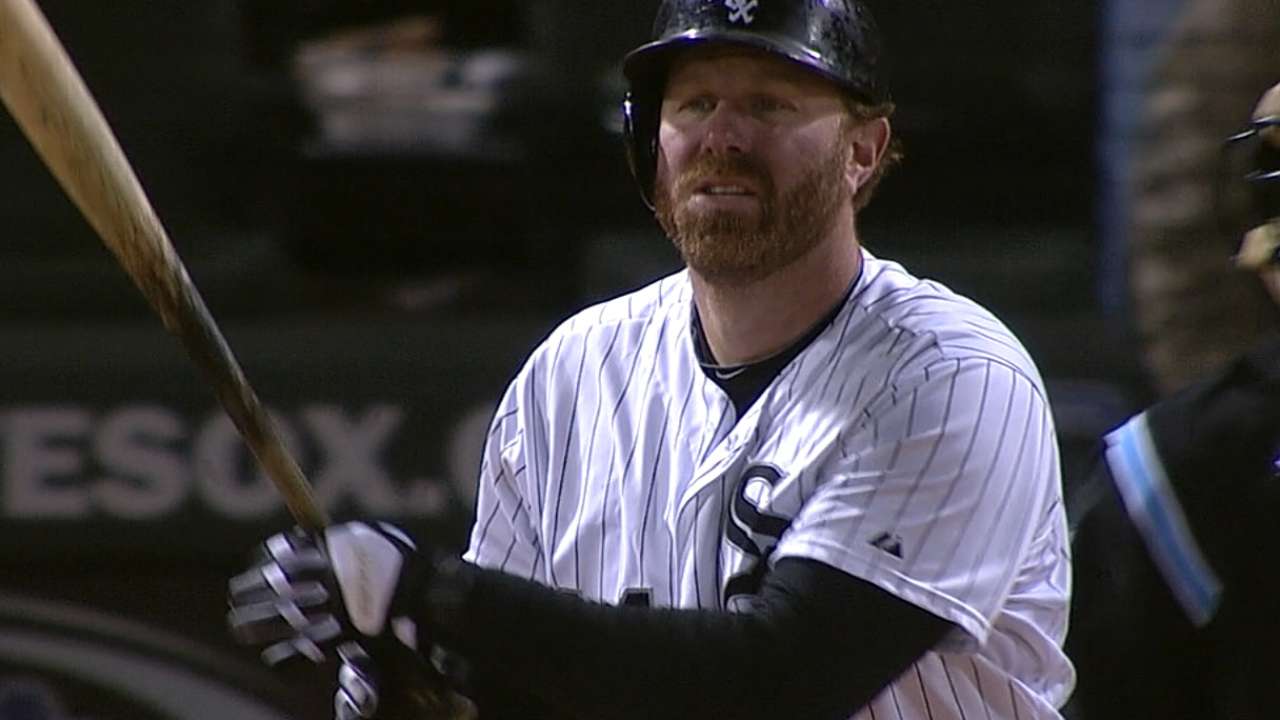 Go ahead, call the Athletics desperate. Billy Beane did just call a general manager's version of a Hail Mary pass, acquiring Adam Dunn from the White Sox on Sunday.
It's the easiest move in the world to knock, based on Dunn's well-earned reputation for being a one-dimensional player and an October spectator. He's a guy who hit .159 in 2011 and struck out 222 times in '12. Dunn might have broken Mark Reynolds' single-season record of 223 K's ('09) had Ozzie Guillen not quietly benched him for the last game of the year.
The White Sox hoped to trade Dunn last winter, but there were no takers, and that was still true a month ago. But then the A's hit the skids in August, averaging only 3.6 runs per game as they played without Yoenis Cespedes, who was sent to Boston in the Jon Lester trade.
Beane has always been open-ended in searching for solutions to help his roster. He traded his top prospect -- Addison Russell -- to get Jeff Samardzija and Jason Hammel in early July, going all-in to try not just to make the playoffs, but to have a roster capable of winning the World Series.
So why not add Dunn? This move could be the one that makes the others pay off.
While Dunn ranks 79th among 81 American League batting title qualifiers with a .220 batting average entering play Monday (and is seventh with 132 strikeouts), he is a respectable 30th with a .773 OPS. That's better than the Tigers' Torii Hunter or Ian Kinsler, the Yankees' Mark Teixeira, the Royals' Billy Butler and the Orioles' Chris Davis, among other guys trying to get their teams into the playoffs.
Dunn, who has 460 career home runs, will serve as the Athletics' primary designated hitter against right-handers. He's played first base and in both outfield corner spots this year, but he could be used exclusively as a hitter in Oakland.
Dunn, of course, is the ultimate "Three True Outcomes" guy. Most of his value lies in being able to hit home runs. Dunn has hit 95 the last three seasons, more than everyone except Davis, the Blue Jays' Edwin Encarnacion and Miguel Cabrera (although Giancarlo Stanton is on his tail with 94). Dunn's ratio during this stretch is one homer every 15 at-bats. There are only four Major Leaguers with a better ratio than that this season.
Here's one fact that A's fans will not like: September has historically been the least productive month of Dunn's career.
Dunn has a .739 career OPS for September -- compared to .915 in July -- and he has hit a home run only every 22.4 at-bats in the final month of the regular season. But don't read too much into that.
Given the bad teams that Dunn has played on in his 14 seasons, it might be more of an indictment if September was his best month. That would suggest he piles up numbers when it doesn't matter, and that hasn't been the case.
Dunn has been significantly better in the first half of the season than the second half. That says to me that the weight of losing seasons wear on him, or perhaps that he tries to do too much when his team is digging out of a hole.
Dunn has played 1,976 games in the regular season and none in the postseason. That's the longest such streak among active Major Leaguers. But with which team was Dunn supposed to do big things?
When you take a close look at Dunn's record, you see he's been on only two teams -- the 2008 D-backs and '12 White Sox -- that had a chance to win. Dunn underperformed down the stretch in both cases, although to be fair, a poorly timed strained oblique hurt him when the Sox weren't able to maintain a three-game lead with 15 games left two years ago.
That missed chance stung Dunn badly, and why wouldn't it? He had bounced back in determined fashion after 2011, when his batting average plummeted 101 points in the first year of the $56 million deal the White Sox gave him. Few players have ever handled such a difficult season as well as Dunn.
Wouldn't it be something if Dunn has just been setting the stage for dramatics in September or October this year?
Dunn said Sunday he'll retire after the season, and that he can't think of a better way to go out.
"It's going to be a completely new start for me," he told reporters at U.S. Cellular Field. "What's happened the last four years, it's over. This is kind of a new chapter, and I've got a month to go out and do what I'm capable of doing."
Beane and the A's are giving Dunn a chance. If he gets hot at the right time, he'll be a difference-maker. They were smart to recognize the possibility that a player in need of a happy ending could help them write one.
Phil Rogers is a columnist for MLB.com. This story was not subject to the approval of Major League Baseball or its clubs.