Sliding Vogt exits finale with sprained left ankle
A's first baseman not expected to be out long after X-rays come back negative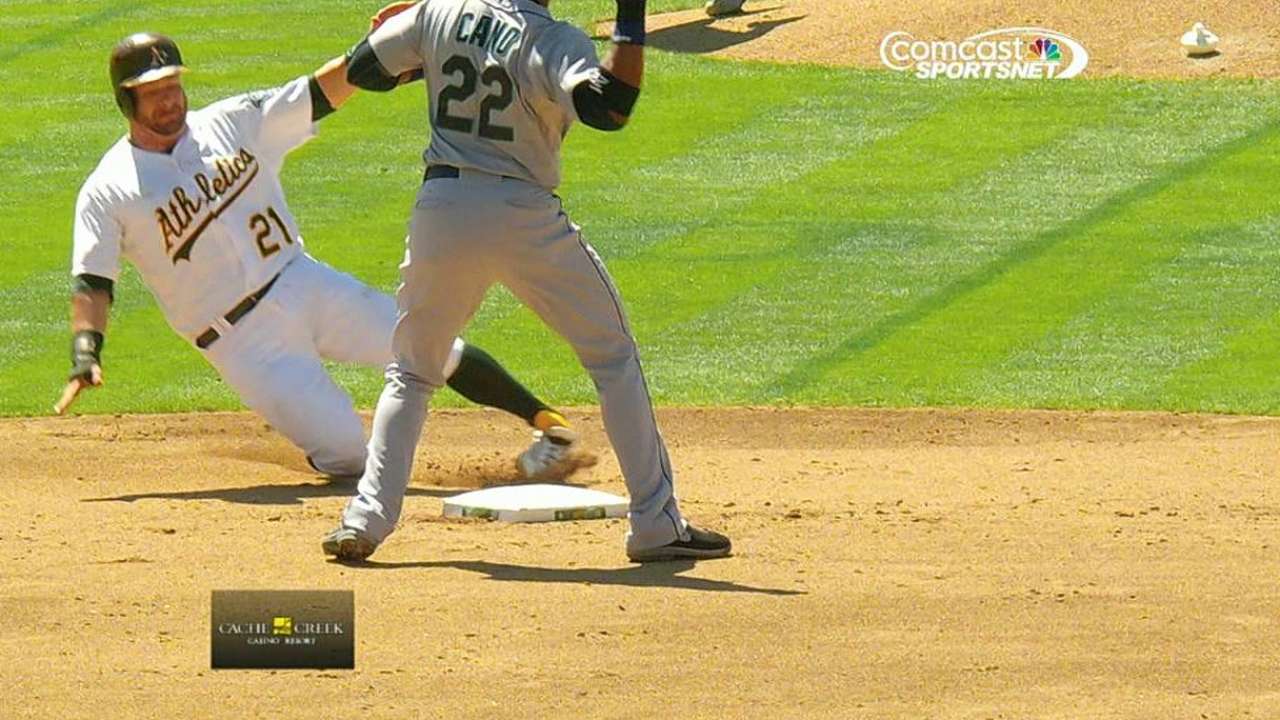 OAKLAND -- A's first baseman Stephen Vogt exited Wednesday's 2-1 loss to the Mariners with a sprained left ankle, which he sustained sliding into second base in the fifth inning to break up a double play. X-rays were negative, and Vogt is hoping to miss no more than a few days.
"[Robinson] Cano had some fancy footwork and kind of tricked me in which way he was going," Vogt said of Seattle's second baseman. "I tried to change directions the last second, kind of clipped my toes on the ground as I was going in, just kind of rolled the ankle over."
Vogt went into the clubhouse following the inning to get the ankle taped, and he returned to play first base in the sixth. When he entered the dugout afterward, manager Bob Melvin told him his day was done.
"Obviously it's sore right now," Vogt said after game. "Just a good sprain. It's nothing more than that, nothing I haven't dealt with before. But obviously it's going to be pretty sore for the next couple days."
For the past two months, Vogt has been playing through pain in his right foot, preventing him from getting behind the plate. Since early July, he has almost exclusively played first base.
Now, Vogt will be dealing with a bad right foot and a sprained left ankle.
"I'll be walking even now," he joked. "No more limp."
Aaron Leibowitz is an associate reporter for MLB.com. This story was not subject to the approval of Major League Baseball or its clubs.