Five keys for A's to regain momentum down stretch
Looking up at Angels in AL West, club has 23 games left entering weekend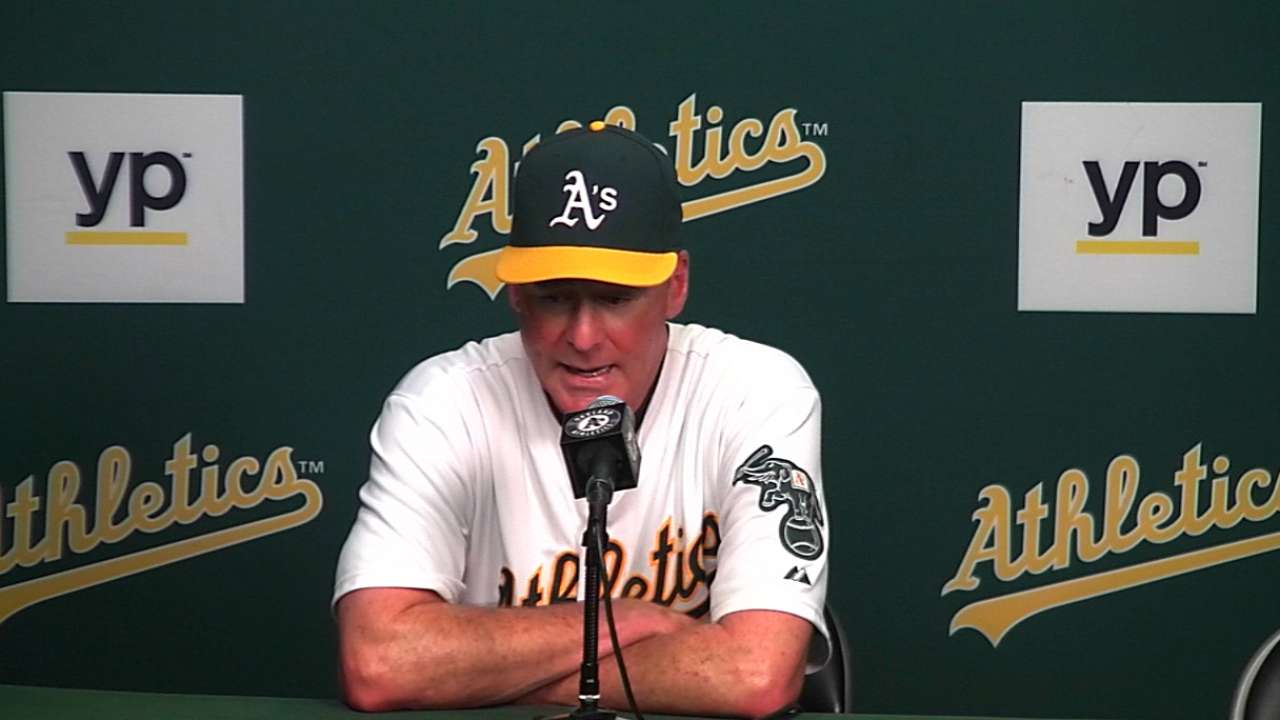 OAKLAND -- The A's have taken a hard tumble in the standings amid a 7-16 stretch, falling five games out of first place in the American League West, where they once stood alone this season for 119 days.
They were 51-30 through the halfway point of the schedule on June 29, but they are playing sub-.500 ball since, at 28-30. Come Friday, carrying a 2 1/2-game lead for the top Wild Card spot as they welcome in the Astros for a weekend series, the A's will continue to seek ways to right the ship. Here are five keys for Oakland to do just that:
1. Create scoring opportunities
The A's aren't just struggling to score, plating three runs or fewer in 14 of their past 21 games, but they're giving themselves little opportunity to do so without the long ball, getting on base at a dismal .301 rate since the beginning of August. Their 217 strikeouts since then are the most in the AL, and their 24 homers in that same span are tied for just 16th in the Majors. The result: a total of just 115 runs in a 34-day period, tied for 19th in all of baseball.
Josh Donaldson has provided consistent at-bats, but, as shown in recent weeks, he can't single-handedly carry this lineup. Brandon Moss and Derek Norris, in particular, need to start hitting again, or at least find ways to get on base.
2. Shore up the defense
Offensive struggles aren't Oakland's only problem. Defensive blunders and some sloppy play have led to several unearned runs over this woeful stretch. The club has rung up 24 errors in its past 29 games, bringing its season total to 94, which is third most in the Majors.
3. Keep watch on Kazmir, Gray
With just 23 regular-season games remaining, the A's can't afford to offer extra rest to struggling starters Sonny Gray and Scott Kazmir, but they also can't afford to watch them continue to falter in meaningful September starts. Fatigue may very well be affecting both Kazmir (2-4 with a 7.80 ERA in six starts since Aug. 3) and Gray (1-4 with a 5.84 ERA in six starts since Aug. 6). Kazmir has pitched just 30 innings in that time and Gray just 37, and both have already surpassed their innings total from last year. The solution may be a short leash and a longer look at Drew Pomeranz, who could potentially piggyback their outings.
4. Get healthy
The A's surely have no control over this, but their long list of walking wounded in the past month can't be ignored. After all, it's what led to their inquiry and eventual acquisition of Adam Dunn. Getting back Coco Crisp this weekend and keeping him healthy through the rest of the season is significant for a lineup that relies so heavily on his ability to provide a spark from the leadoff hole and get on base. John Jaso, even if limited to a hitting role after suffering another round of concussion symptoms, will provide a key left-handed bat off the bench once activated from the disabled list. And closer Sean Doolittle can only help solidify the bullpen. Once these three are healthy and on board, Oakland will start looking a little more like itself.
5. Stay in the moment
The A's have always done well in separating outside distractions, be it the media or the standings, or questions from the media about the standings. This becomes all the more paramount in their final month of regular-season play, when they must keep their focus not on past failures or future scenarios but on the moment at hand and play with the same mojo and fiery demeanor that defined their first half of the season. Too often, recently, they've looked deflated and beaten down, which can only hurt their play.
Jane Lee is a reporter for MLB.com. Read her blog, Major Lee-ague, and follow her on Twitter @JaneMLB. This story was not subject to the approval of Major League Baseball or its clubs.